Wir haben unser Duo 'secret combination' genannt, weil es wirklich ein Geheimtipp ist.
Saxofon ist ein absolutes Trendinstrument und Stanislaw Nakielski spielt es hervorragend.
Wir haben uns in einer Band für Tanzturniere kennen gelernt und ein gemeinsames Repertoire aufgebaut.
Jazz Standards in guter alter Frank Sinatra, Ella Fitzgerald, Toni Bennet Manier, sind unsere Leidenschaft. (Um nur ein paar Interpreten zu nennen)
Aber auch Popklassiker und RnB Style wie Cool and the Gang, Lionel Richie, Stevie Wonder frischen unser Programm auf.
Eigene Interpretationen von Ed Sheeran's 'Perfect' oder Namikas 'Lieblingsmensch' lassen wir uns auch nicht nehmen.
Wir fühlen uns wohl in Gesellschaften, die genau diese Art von Musik lieben, etwas Besonderes wollen für sich und ihre Gäste.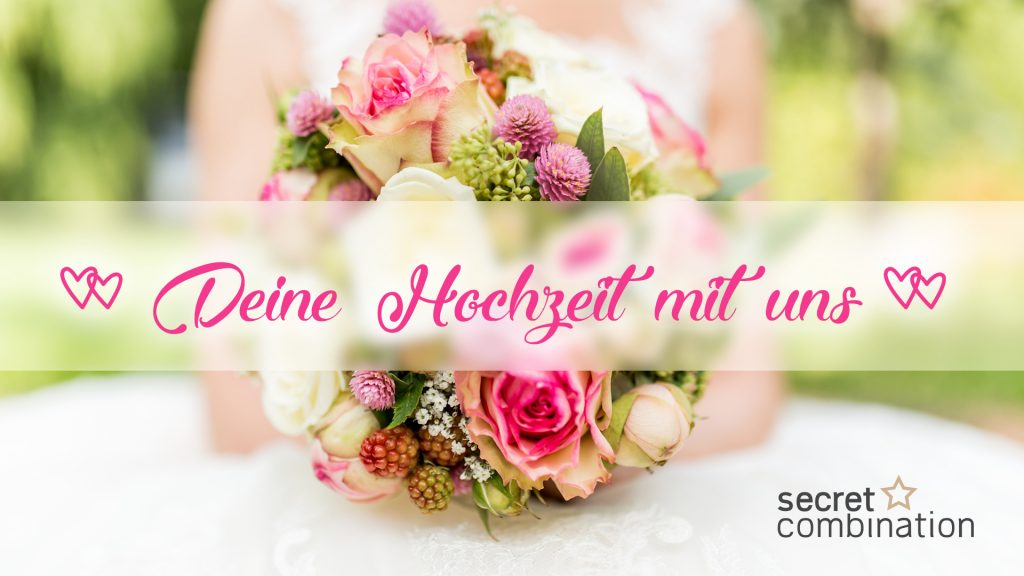 Sogar zu Trauungszeremonien haben wir schon gespielt. Das ist ein sound in der Kirche mit einem Saxofon……..
Das kann zum Empfang sein, aber auch während ihrer ganzen Feier. Wir kennen uns aus und wissen um die Balance der Lautstärke und der passenden Musikrichtung.
Nach dem Dinner können Sie auch gerne tanzen zu unserem secret combination Dance Repertoire.
Unsere besonderen Referenzen können wir durch Engagements in Wirtschaft und Politik nachweisen.
Immer ein Highlight und eine Auflockerung zwischen Laudationes und Ansprachen bei Verabschiedungen, Begrüßungen, Jubiläen.
Repertoire
| Titel | Intepret |
| --- | --- |
| Ai no corrida | Standard |
| Ain't misbehavin | Standard |
| All night long | Lionel Richie |
| All of me | Standard |
| As time goes by | Standard |
| Atumn leaves | Standard |
| Azzuro | Adriano Celentano |
| Baker Street | Gerry Rafferty |
| Basinstreet Blues | Louis Armstrong |
| Beautiful love | Standard |
| Bei mir bist du schön | Standard |
| Besame mucho | Standard |
| Beyond the sea | Frank Sinatra |
| Black Orpheus | Standard |
| Blue Bossa | Standard |
| Blues Traditional | Standard |
| Brazil | Standard |
| California Blue | Roy Orbison |
| Can you feel the love tonight | |
| Can't help fallin in love | Elvis |
| Can't smile without you | Barry Manilow |
| Careless whisper | George Michael |
| Chanson d'amour | Manhatten Transfer |
| Cheek to cheek | Standard |
| Cherry pink | Standard |
| Chicago | Standard |
| Close to you | Carpenters |
| Corcovado | Standard |
| Cry me a river | Standard |
| Czardas | Standard |
| Desafinado | Standard |
| Do nothing til you hear | Standard |
| Don't you worry bout | Stevie Wonder |
| Don't know why | Norah Jones |
| Dream a little dream | Mamas and Papas |
| Easy | Commodores |
| Every breath you take | The police |
| Feel like makin love | George Benson |
| Feel | Robbie Williams |
| Fly me to the moon | Standard |
| Fever | Standard |
| Girl from Ipanema | Standard |
| Gardenparty | Mezzoforte |
| Georgia on my mind | Standard |
| Give me the night | George Benson |
| Golden Lady | Stevie Wonder |
| Half a minute | Matt Bianco |
| Heal the world | Michael Jackson |
| Hello | Lionel Richie |
| Hello Dolly | Standard |
| Honeysuckle rose | Standard |
| How deep is your love | Bee Gees |
| How high the moon | Standard |
| I feel good | James Brown |
| I get a kick | Standard |
| I got rhythm | Standard |
| Icecream | |
| Ich war noch niemals in NY | Udo Jürgens |
| Ich will keine Schokolade | Trude Herr |
| If you don't know me by now | Simply Red |
| If you leave me now | Chicago |
| In the mood | Standard |
| In the winelight | Standard |
| Isn't she lovely | Stevie Wonder |
| It don't mean a thing | Standard |
| It's now or never | Elvis Presley |
| Just the two of us | Bill Withers |
| Just the way you are | Billy Joel |
| Killing me softly | Roberta Flack |
| La mer | Standard |
| La vie en rose | Grace Jones |
| Lady be good | Standard |
| Lemontree | Fools garden |
| Lets twist again | Chuby Checker |
| Lily was here | Standard |
| Lieblingsmensch | Namika |
| Love is in the air | John Paul Young |
| Lover man | Standard |
| Lullaby of Birdland | Standard |
| Make me a memory | Grover Washington |
| Moonriver | Standard |
| Mas que nada | Standard |
| Mercymel | Standard |
| Misty | Standard |
| Morning Dance | Spyro Gyra |
| Mr Saxobeat | Alexandra Stan |
| My Baby just cares | Nina Simone |
| My Cherie amore | Stevie Wonder |
| My funny Valentine | Standard |
| My way | Frank Sinatra |
| Need somebody | Randy Crawford |
| New Y new Y | Frank Sinatra |
| Night and day | Standard |
| Night like this | Caro Emerald |
| On Broadway | George Benson |
| One day I'll fly away | Randy Crawford |
| One Hello | Randy Crawford |
| One note samba | Standard |
| Only you | Elvis Presley |
| Opus One | Standard |
| Petit Fleur | Standard |
| Pick up the pieces | Average White Band |
| Quando | Michael Buble |
| Raindrops are fallin | BJ Thomas |
| Rainy night in Georgia | Randy Crawford |
| Reality | Standard |
| Red roses for a blue lady | Standard |
| Reet petiet | Standard |
| Rock around the clock | Bill Haley |
| Route 66 | Standard |
| Roxanne | George Michael |
| Samba de orfeu | Standard |
| Satin doll | Standard |
| Secret combination | Randy Crawford |
| Sentimental journey | Standard |
| Sir Duke | Standard |
| Smooth Operator | Sade |
| Something stupid | Robbie Williams |
| Somewhere over the rainbow | Barbra Streisand |
| Spooky | Dusty Springfield |
| Stella by Starlight | Standard |
| Stranger on the shore | Standard |
| Streetlife | Crusaders |
| Summer Breeze | The Isley Brothers |
| Summer samba | Standard |
| Summertime | Standard |
| Sunny | Boney M |
| Sunny side of the street | Standard |
| Sway | Dean Martin |
| Sweet Georgia Brown | Standard |
| Take five | Standard |
| Take the a Train | Standard |
| Tequila | Standard |
| Tea for two | Standard |
| The greatest love of all | Whitney Houston |
| The lady is a tramp | Standard |
| There will never be another you | Standard |
| This masquerade | George Benson |
| Walk on by | Diana Krall |
| Warwick Avenue | Duffy |
| Watermelon man | Standard |
| Wave | Standard |
| What a wonderful world | Louis Armstrong |
| When a man loves a woman | Percy Sledge |
| Without you | Mariah Carrey |
| Work song | Standard |
| You are the sunshine of my live | Stevie Wonder |
| You light up my life | Debbie Boone |
| You've got a friend | James Taylor |
| You are so beautiful | Joe Cocker |